"Wake Up With Make Up"
All procedures take a minimum of 2 visits and as a technician I have been taught that "less is best".
I advise that your first appointment creates a softer effect which can be altered on your second visit.
Each visit should be spaced out between 4 - 6 weeks but within 3 months and you should follow the prescribed aftercare advice to ensure your desired result.
A 'colour boost' is recommended every 12 - 18 months to keep your make up looking fresh and vibrant.
Semi Permanent Eyebrows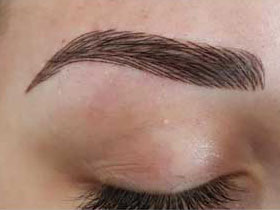 Eyebrow Tattooing for beautifully shaped, natural looking eyebrows
Whether you suffer with thin or sparse brows due to over plucking or fair hair, permanent make-up can help give you realistic and natural looking brows, which last for years.