Permanent Makeup - Treatments
Permanent Makeup has long been one of the beauty industries best kept secrets, now the secret is out, and it is fast becoming one of the most popular beauty treatments of today. More and more women, and indeed men, are opting for Permanent Cosmetic Enhancements which allow them to look more attractive and polished, with little or no effort, every day of the year….
Eyebrows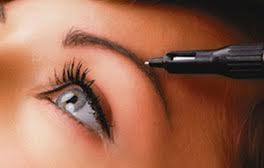 Whether you suffer with thin or sparse brows due to over plucking or fair hair, permanent make-up can help give you realistic and natural looking brows, which last for years.
Using a hair stroke effect, which mimics the natural hair, I aim to make your brows look as natural as possible.
We will start with a thorough consultation where we will discuss your desired look and see whether your brows need reshaping, filling in, lifting, thickening or defining.
It's a good idea to bring any photos or magazine clippings of the look you would like to achieve.
The procedure will commence with the creation of a template drawn onto the skin with a cosmetic pencil. Once you are 100% happy with this template we will proceed to anesthetise the skin. We will then allow the anaesthetic to take full effect whilst deciding on the perfect colour pigment to use in order to compliment your colouring.
After the treatment we will then give you full aftercare advice and arrange the date for you to come back for your top up 4-6 weeks later.
Eyeliner
Permanent eyeliner helps to define your eyes, you can choose between a soft and natural look or a thicker more dramatic look.
Most clients decide to have colour put on both the top and bottom of eye which helps to frame and make the eyes look bigger.
Your eyes are closed throughout this procedure and anaeasthic is applied to give you a pain free experience.
If you can't decide if you would like a natural or dramatic effect, we can start with natural and then when you come back for your top up treatment we can easily add to it for a more dramatic effect.
Benefits of permanent eyeliner:
Every woman who wants her eyes to look less 'bare and unnoticeable' without make up
People who don't want to apply eyeliner everyday
People who want perfectly shaped eyeliner that wont smudge!
People with fair lashes.
When eyelashes are missing or thin
Sporty people
For people who are visually impaired
Contact lens wearers
Hayfever sufferers
People that are sensitive to everyday make up.
Lip Liner/ Lip Blush/ Full Lip Colour
There are different options for permanent lip colour, the first is a lip line or lip contour. This is a soft lip line using colours carefully chosen to blend into the natural lip colour, resulting in a flawless but effective lip contour definition, completely unlike the strong coloured lip lines of old.
The second is a lip line and blush, where a slightly stronger colour may be used to define the lips border, the colour is then blended and feathered halfway through the lip, creating the illusion of more volume and fullness.
The third option is full lip colour, again clever use of colours and shading will give the same results as previously mentioned, but the overall effect is for someone more used to seeing a bit more colour. Lip gloss or balm will always further enhance and lift the colour, looking like a tinted lip gloss.